News — GSK Retrofit
Posted by Jeff Bailey on
Cost effective and affordable.  Our Turn Key Knee Mills are available in 2 axis, 3 axis, and 4 axis kits.  60 MB user storage, LAN, USB, RS232 interfaces.  Supports ISO G-code, DXF for drilling, and macros.  Absolute encoders (No home & and limit switches required).  8.4" full color LCD display.  Non-PC based controller.  Easy to install and operate.  Reliable and affordable GSK CNC Knee Mill Kits. Retro fit kits are also available for 2 axis, 3 axis, and 4 axis knee mills.  3 hp or 5 hp digital servo spindles.  Powerful and affordable upgrades to bring new life to your...
Posted by Jeff Bailey on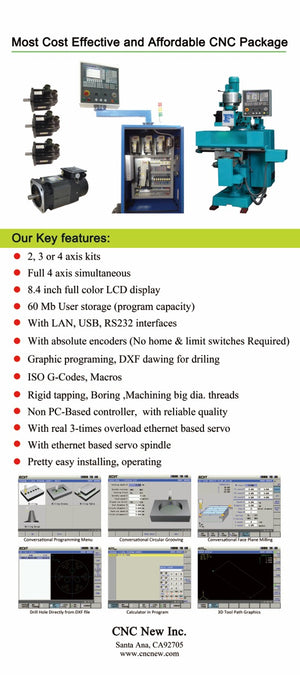 We have retrofit kits and new turn key knee mill machines.  2-Axis, 3-Axis, 4-Axis, and custom knee mill kits available.  Our newest knee mills come with absolute encoders, 60 Mb of user storage, and an 8.4 inch full color display.  Knee mill is easy to install and straight forward to operate.  Call us with your knee mill inquiries.